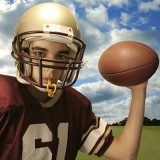 Your Spending Game-Plan
Create your spending plan and take control of your future.

Challenges
Build a Buck
Money's cracking up, what are you going to do about it?
Agent Geo
Spy phone text messages and the Pink Mink will help you find the bad guy's secret lair.
Debunker
We've gathered 10 popular legends circulating in and out of e-mailboxes. Which ones are actually true stories?
Countdown!
Tower to flight U: you're cleared for a high5 if you can solve wacky clues and find it first. Over.
Car Builder
It's a slow day at Hugh Googol Cars. Ready for some fun?
Smoke and Mirrors
Paula Picasso is busy decorating for the season. Uh oh, what's this….?
Sack the Quarterback
Hey quarterback! You're about to get sacked!
Tongue Twisting Tribulation
Try typing torturous tongue twisters.
Tricks
Fun activities
Speed
Visual
Money words
Verbal
Numerical
Facts
Money
Odd finances
Celebrities