E-books?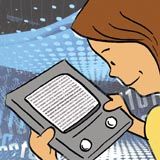 What's an electronic book reader?
If you're like me, you are completely obsessed with books. When I found out that an electronic book reader can store up to 3,500 books, I was amazed.
But mom and dad say that an electronic book reader costs about $300! And then, you have to pay about $10 to download each book unless you take advantage of the many free e-books available.
I'm going to share three options for reading books and tell you what I think is best. You can:
Buy an electronic book reader.
Buy traditional books, either online or at a regular book store.
Go to the library to check out books.
Which of these three options is the best? Well, it really depends...
Get an e-reader
Pros:
They give you the ability to store more than 1,000 books—you can't hold that many on your bedroom bookshelf!
It takes very little time to download books on an e-reader.
Many allow you to highlight and add notes to your e-book and then go back and change them, or delete them—no problem.
Most e-book readers take up very little space, are lightweight, and wireless. This is very convenient!
Cons:
They cost too much—many kids don't have $300 in their accounts.
You have to spend money to repair, maintain, and upgrade your e-book reader.
If you lose your e-book reader you have more problems than the cost of the reader. You lose your books and notes, too!
Some readers can't download books outside of the United States. That can be quite a problem if you travel.
E-book readers require either a charged battery or electricity. You may not have either when your battery is about to run out.
If you want to buy a traditional book, you have to...
Tweet