From the Classroom to Costa Rica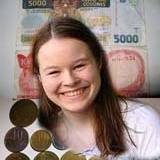 In Costa Rica I spent thousands...


I'm not an adventurer:
The last time I saw a daddy long-legs, I ran out of the room squealing.
In Spanish class, I hesitate to raise my hand because I'm afraid of making a grammar mistake.
I get queasy looking down from my school's fourth-floor window.
Yet somehow, this spring break, I ended up going on what could only be called an adventure.
My family's destination was Costa Rica—with me as the designated translator (having studied five years of Spanish). My excitement about the trip soon turned to anxiety over my Spanish skills.
What if I used the wrong verb tense? What if I froze? What if no one understood me? What if? What if?
Speaking Spanish to Ticos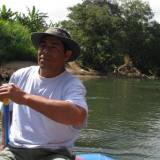 The speed of native speakers never fails to amaze me.


What I hadn't factored in was how accommodating the Ticos were...starting with our driver from the airport.
¡Hola! Me llamo Heiner y ella es mi esposa. ¿Cómo están?
(Hi! My name is Heiner and this is my wife. How are you guys?)
He greeted us enthusiastically, which made his greeting sound like one really long word.
Although I was scared of messing up my grammar, I couldn't bear to be rude and ignore him. Since I was the only person in my family who understood him, I fought my fear and
responded in Spanish
.
Through talking with him in Spanish I came to the conclusion that you don't have to be an adventurer to have an adventure. From then on, I spoke Spanish to everyone I met with less hesitation.
Once my greatest fear, speaking Spanish, was behind me, I was eager to experience all that Costa Rica has to offer: the landscape, the people, and the actual in-the-wild wildlife...
Tweet