Plan B for College
Hedge your bets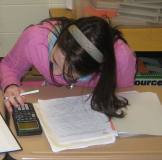 "I looked at schools in nearby states, and in California where I have family."—Erin


Timeliness and your high school record can go a long way toward getting you accepted at colleges. It also depends on who else applies.
"We only have a certain number of spaces available for new freshmen each year," notes Reason. "We choose the ones we think will be the best fit, based on their academic records and their backgrounds."
That's why it's important to apply to more than one college. "You may not get into your first-choice school, so you need alternatives," he says.
"Apply to a good mix of schools," Reason suggests. "You might choose the best school you think you can get into. Also apply to one that's close to home, one the furthest away you think you can handle, and one you're sure you can get into."
"The key," adds Martinelli, "is that you apply to colleges with the academic program you want and where you're comfortable with the school setting." Since application fees can add up, you may want to limit yourself to three or four colleges.
Research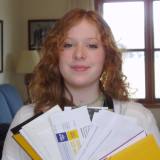 "I'm receiving mountains of materials!"—Angela


It's never too early to start researching. Angela, a high school sophomore in Wisconsin, has already begun. "There are so many good schools out there; I want to start narrowing down my choices," she says.
When she took the PSAT/NMSQT (Preliminary Scholarship Test, National Merit Scholarship Qualifying Test) test, Angela checked a box asking if she wanted to receive college-related mailings. "I checked yes, and I'm receiving mountains of materials," she says. "I throw away the ones I'm not interested in, and check the Web sites for those that do look interesting."
Erin did most of her research online. "I knew I wanted to go into a science field, so I looked at how many federal research grants different colleges get," she explains. "I also checked out books from the library that talk about colleges from a student's perspective."
Academics are Erin's first priority, but she also considered location. "I looked at schools in nearby states, and in California where I have family," she says.
As part of her research, Carli took a College Matchmaker survey at the College Board's Web site.
"It listed colleges I wouldn't have thought of, like liberal arts or private colleges. I looked at one pretty seriously, but decided it was too far away for my first year."
Carli eventually identified four schools of interest, and visited the campuses.
Didn't get in?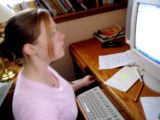 Did I get my acceptance notification yet?


It's definitely something to think about. The admissions process is very competitive at many schools.
"We're only able to accept about half of the applicants to our freshman class," says Reason.
"If you're not accepted at your first-choice school, realize that it's not personal," says Reason, "It's all about how many spaces we have available and who fits into them best."
That's why Martinelli says, "When applying to colleges, you need a Plan B. Ask yourself, 'If my first choice doesn't work out, what am I going to do?'"
We're glad you asked...
Tweet