Spending long hours in the car this summer? You can make getting to where you're going as much fun as when you finally get there!
Play these games to make the time pass quickly. When everyone in the car plays with you, it's hilarious and exciting!
Print these ideas and try them the next time you are traveling:
The Alphabet Game
Everyone in the car looks for letters of the alphabet on billboards and signs. The game begins with the letter A and continues through the alphabet.
The word must start with the letter (except Q and X, which are OK anywhere). For example, if you find the letter "A" in the word "area" on a sign, you say the letter and the word: "A—Area."
Don't get discouraged if someone gets a few letters ahead of you. When they get to Q, you'll catch up quickly!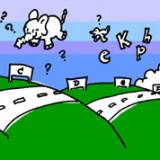 Does it grunt?


The Animal Game
One person thinks of an animal. The others take turns asking
questions
to figure out what it is.
Answers can only be yes or no. If the answer is yes, that person gets to ask another question. If the answer is no, then the next person gets to ask a question.
The person who correctly guesses the animal gets to think up the next one.
You can also change the game slightly to things found in your school, in your house, or wherever you are.
Similar to The Animal Game is Spy...