Looking Good on a Budget
Where to shop?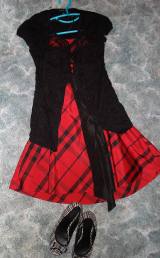 Online discounts are an easy way to find inexpensive outfits.



You can save a lot of money at outlet stores, thrift stores, online discounts, garage sales, local discount stores, and even by borrowing clothes from close friends.
Outlet stores (such as Overstock.com) carry the extra items that name-brand stores don't carry anymore. They're like "leftover" stores.
Thrift stores like Goodwill and local pawn shops carry pre-owned clothing and accessories. The majority of the time the stores sanitize all their products before selling, so don't be alarmed, but wash your clothes before wearing them, just in case.
Websites have a lot more useful sales and clearance items than brick-and-mortar stores—most of the time—and sometimes you come across things that you would have never found in your local shopping centers.
Garage sales are a great way to find vintage accessories and clothing, costumes, and even regular outfits. People grow tired of their clothes! Just walk around the block on a Saturday morning and you'll be sure to see something catchy out of the corner of your eye.
Wherever you begin your quest for a perfect outfit, make sure you don't limit yourself to one store. The more places you look, the more money you'll save, and the happier you'll be with your final outfit.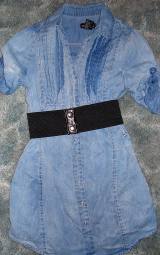 Sometimes my friends and I share a jacket or a shirt.


When you're ready to shop
We often want to go to the first store and buy everything they see. Don't. There are many stores out there that could carry better and cheaper clothes than what the first store did.
Always stick to your budget! You could save the leftover money and be thankful you did later.
It's not fun to shop by yourself, because you miss out on others' opinions. If you like your friends' styles, invite them to help you stick to your budget and your decision on an outfit—and be happy to do the same for them.
The more things you try on, the better. Clothes don't always look the same on the rack as on your body, so if you like a piece of clothing, try it on. If it doesn't look good, put it back and move on. There are thousands of other options out there!
Shopping isn't the only option
Sometimes clothes your friends have might be the perfect touch to your outfit.
This also means you should
search your own house
! Your mom or grandparents could have vintage jewelry that puts the icing on the cake. My mom had an old necklace that she let me borrow and when I put it on in conjunction with my outfit, it completed my look!
Put your skills to good use!
After going from store to store, trying many things on, and having a blast with your friends, calculate how much everything will cost.
If you're at your budget or below, buy your clothes. When you get home, don't be shy—model them for your friends and family.
You'll feel good that you've successfully found a cute outfit while being frugal.
These are some ways you can save money and still look good. Nobody will ever be able to tell the difference and you'll look hip and cute!

True or False: Benjamin Franklin published the first novel in America. Click Ben's head for the answer.
TRUE: In 1744 Franklin convinced an English printer, David Hall, to come to the US and become a printer with him. They printed the novel Pamela, the first ever in the US.
Tweet