Earn $660 From Home—Yes, You!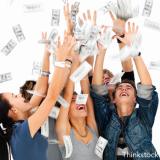 We'll pay you to tell us what you think.


Got opinions? Want an audience?
If you're selected for the C-Note Teenage Panel, we'll pay $660 for the privilege of listening to you for a whole year.
We're looking for up to four responsible teenagers from different backgrounds to work as paid C-Note Teenage Panel members. Teenage Panel members must be in high school (ninth through 12th grade) in the fall of 2015 or, if home-schooled, of high school age.
As a panel member, you commit to one year of service, from June 1, 2015 to May 31, 2016. During that time, you complete surveys for one new story and one new game by email, every month, and, with our guidance, create a final project (video, infographic, or article). We also may ask you to complete one or two small projects.
Then, after writing a C-Note story of your own, you receive a $660 check for all your work.
Here's what you need to do the job:
Reliable Internet access (at school, home, or a public library) and an email account
Ability to think critically about online articles and games
Creativity to research and produce a final project
Commitment to communicate with the Teenage Panel liaison by email when needed, and do your evaluations and story on time
It's a fantastic opportunity to showcase and develop your writing skills, play online games, evaluate interesting stories from people your own age, and learn about your finances-while getting paid. Sound like a fun way to earn 660 bucks?
Visit our current Teenage Panel to learn a little about this year's participants, and to visualize yourself in their roles next year. Then, send your request for an application by Feb. 27, 2015 to Kory Seymour, C-Note Teenage Panel liaison:
We take your privacy seriously on C-Note and do not display your last name or sell your information to third parties. You'll never have to worry about spam from us filling up your inbox.

True or False: Benjamin Franklin, ever the ladies man, asked a woman to marry him even though he was 73-years-old. Click Ben's head for the answer.
TRUE: He was enamored with the widow of a French philosopher, Anne-Catherine de Ligniville. Unfortunately she was still in love with and devoted to her dead husband.
Tweet