Tsunami
7:00 am: earthquake confirmed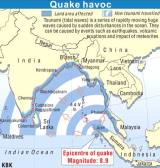 Graph: Quake Causes Havoc in South India


My parents and I waited downstairs for ten minutes, and then went back to our second floor apartment with much reluctance. Even though it was just a tremor, we were frightened, wondering if another shake would occur.
Inside, we switched on the news channel. The newsreader said that there was an earthquake in Sumatra that measured 8.9 on the Richter scale. They said there were tremors in various parts of Southern coastal India including Chennai.
The earthquake was later upgraded to 9 and was classified as massive.
My parents left the house to attend a puja (a Hindu religious function). I did not accompany them, as I had an exam the next day.
9:45 am: the water is rising!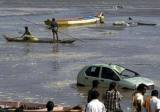 The water is rising.


My cell phone rang. It was my friends Priyanka and Sushmita. They said, "The water is rising near the coast and right near our houses too!"
They wanted to know if it was rising in my area too. I live just 1/2 kilometer (1/3 mile) from the beach.
"No, the water hasn't entered my area," I told them. After they hung up, my friend Divya called me. Then my sister's friend Nanditha called me up and told me they expected a tsunami.
She wanted me to evacuate my house and go to hers, which was in the center of Chennai about six kilometers (just under four miles) away from the coast.
But my parents weren't at home--I didn't know what to do!
Stay...or go?
I called my parents even though they were at the puja. My mother assured me that nothing would happen.
Nanditha called up again and she sounded frantic. "Evacuate immediately!" she begged me.
I was really afraid. I didn't know what to do. I really didn't want to call my parents again at the puja. My neighbors weren't home so I could not ask them what they thought I should do...
Tweet