Self-Employment: Reap the Rewards
Risky expenses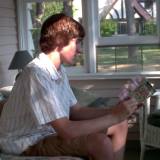 If the customers have their pictures in order, I have more time to do my own work for school!


I love when someone asks me what I do and I can say, "I own my own video production business." However there are always risks involved when you're an entrepreneur.
I need to make as much money as I put into programs and equipment. If I don't, I get in a hole with my parents, so I have to do careful bookkeeping, and track dollar and time expenses.
My parents made an initial investment of around $300 in software and DVDs. I paid that all back in four months or so. Since then, they have invested a lot more in my business.
Many of the investments are in items used by our entire family, such as a video camera, laptop, and firewire card, so I only have to pay for part of it. It usually takes me six months to a year to pay them back.
When I work on a project, I spend a lot of time scanning, editing, dubbing, and putting in music. This time ranges from 7 to 32 hours.
For example, a project with 165 pictures (resulting in a 10-minute video) takes approximately 8-10 hours. If customers are prepared, have their pictures in order, and know exactly what they want, the process can be shortened immensely.
A basic table for a breakdown of my expenses for one project looks something like this:
Dollar and time expenses for the Smith anniversary
Item
Amount
DVDs, Cases, Covers
$25
Blank DV Tapes
$10
Dollar Total
$35
Task
Amount
Planning/consulting 6/17/2005 3:00-5:00
2 hours
On-site shooting 6/19/2005 2:45-5:45
3 hours
Scanning 6/23/2005 4:00-7:00; 6/24/2005 5:00-7:00
5 hours
Editing 6/30/2005 10:00 am-6:00 pm
8 hours
Time Total
18 hours
Tweet