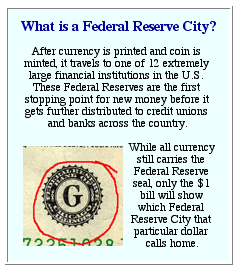 Your good friend Paula Picasso is enjoying cross-country travel while on spring break. She plans to visit each and every Federal Reserve city in the U.S.
Of course Paula wants to share her adventures, so she's sent you postcards from three of the 12 cities. That's where the fun begins. Paula is quite the artistic type, and has re-arranged the front of each postcard.
Can you fix each broken image, restoring it to the original postcard? Unscramble the puzzles that follow and discover from which three cities Paula penned postcards!
Select one of the Federal Reserve seals below to be taken to that postcard. And don't think the seal letters will provide any help in identifying the cities -- the letters aren't related to the name of the city. Check out the "G" on the sample to the right, for example -- that's the letter for Chicago. See? No help at all.
Select a Federal Reserve city seal below: