IndyCars on the Run!
And where does it go?
Why do they race?
All drivers who finish make some money, more than $13 million total. The winner of the race earns about $2.6 million.
No driver earns less than $250,000.
While the prize money might seem big, racers have big expenses.
What does it cost to race?
Drivers in the Indy 500 spend a lot of money to race. Members of the racing team need to be paid. The race's entry fee can be a lot.
Costs to keep the car running for 200 laps include:
Engines. Racers need more than one engine in case one fails. One engine can cost more than $300,000.
Tires. Racers are allowed only 35 sets of tires for practice and the race. That sounds like a lot. But race cars use special tires that don't last long. Each set of 4 tires can cost more than $2,000.
The car. Racers spend a lot of money making their cars both fast and safe. Some spend more than $125,000 for safety alone!
Tyler's Mom is taking the family to the Indy 500 this year. Until now, he had never thought about costs.
What does it cost to go?
How much do you think it will cost?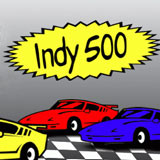 Fans pay a lot to park near the Indy 500 race track.
Travel. Tyler wants to fly from Austin to Indianapolis. The cost for him, his Mom and his sister could be about $1,000. His Mom says she would rather drive! It will take two days each way. The total cost for gas is about $280.
Tickets. Tyler doesn't want the worst seats, or the best. He chooses $70 tickets. That's $210 for the three of them.
Parking. Race fans pay big bucks to park near the Indy 500. Tyler estimates parking fees at $30.
Hotel. They'll need to spend four nights in a hotel. At $65 a night, that's $260.
Food and fun. Tyler guesses $50 a day for food. His Mom thinks they'll spend at least $100 on other things. That's $300.
It's a sonic adventure!
How much did you guess it would cost Tyler and his family to go to the Indy 500? The answer is: if they don't fly, at least $1,000!
Of course Tyler could save that money and watch the race on television but going with his mom and sister will make priceless memories.

True or False: Andrew Jackson was against slavery and actively campaigned to abolish it. Click Andrew's head for the answer.
FALSE: Jackson was not against slavery and in fact owned slaves at his mansion, the Hermitage.
Tweet