Take a Leap With Creative Gifts
Creative gifts for guys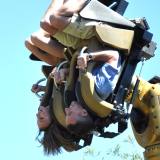 Live life to the fullest.
What seems like a cool gift for one guy may be different for another. Teenage guys are typically into sports and you should give a gift that relates to their athletic interest. One idea is to get tickets to one of the sporting events a guy loves.
For me, I love going to the Liberty High School football games in Renton, Wash. with all my friends; I'm sure getting a ticket as a gift would be great for your guy friend.
Featured in the movie "Valentine's Day," Taylor Swift puts her boyfriend's favorite number on the back of his jersey. Great idea, right? This present is creative and shows just how much you know about that person.
Which of these gifts would Madison claim means the most to the recipient?
Ipod
Money
A card filled with inside jokes
A new video game
By personalizing something such as a jersey you are making that person feel unique. He will constantly use this item and never forget who gave it to him. But if you are going to decorate something such as a jersey, please don't bedazzle it!
A picture of the two of you, once again, would be a fantastic present. If he is one of your best friends then he can be reminded of you every day when he sees that picture.
When it comes to purchasing the perfect present, there is not much that can go wrong when you think it through this way. Just remember your friend's interests and hobbies, as well as going all-out with your imagination.
Take the time
Friends and family are there for you through everything and love you for all that you are. Recognizing them with gifts lets them know just how much you care. With people as incredible as your best friends and parents, time and effort should be put into making the perfect gift, so start now!

True or False: The $20 bill constitutes the majority of all currency printed by the United States Bureau of Engraving and Printing today. Click Andrew's head for the answer.
FALSE: More $1 bills are printed than any other currency. Because it is commonly dispensed in ATM machines, the $20 is the highest denomination of money that is used on an everyday basis.
Tweet