Rock With Babies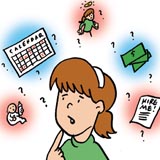 A business plan is your road map to success. Whether you love kids or just want to earn some spending money, babysitting is a great first job.
But did you know you'll have more success if you treat babysitting like it's your own business?
With this advice soon you'll be rocking (the babies) and rolling (in cash).
What's your plan?
Just like a business, you need to decide what you want to do and how to go about it.
Babysitting may sound easy, but:
How are you going to find children to babysit?
How often do you want to babysit?
What skills or qualities do you have that will make you stand out when you market your business to parents?
What will you charge?
How will you get the word out about your services?
Every good business has a business plan. It's like a road map. It shows how you are going to make sure you are the most successful babysitter in town.
A business plan shows people that you're serious about your job. And the families you'd like to babysit for will be impressed that you're so organized and professional.
Once you have a plan, it's time to find your investors...
Tweet