Get the Spirit of Tuskegee
My chance to fly!
At first I felt scared because I have a fear of heights and the plane has an open cockpit. However, I realized that there was no going back, so I got into the plane.
We quickly climbed into the sky, and what a view I had! Once we were flying, I realized that it was a pretty good view of the ground and the landscape. I could see big squares of land. All of the buildings and cars looked like little play toys. The world around me seemed different…I hadn't seen it like this before!
When I first got in the plane, I thought the ride would be really rumbly and loud from the plane engines. But once we were in the air, it was really peaceful and calming.
I overcame my fears knowing my Dad was down on the ground waiting for me. For a slight moment my mind went blank, and then I knew that if I could do this, I could do anything that I wanted to.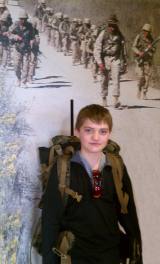 Have you heard of the "Red Tails" movie?
More than height
Everyone has things that make them nervous or fearful or have something that keeps them from trying new things.
Which of these descriptions is true about the Tuskegee airmen?
First African-American military aviators
Known as the "Red Wings"
Stationed in Airmen, Alabama
Fought in WWI
The Tuskegee Airmen had much more than fear of heights to overcome. These were men who battled to be considered pilots and crewmembers worthy of fighting for and defending our country despite their skin color.
Even though I don't know what I want to do when I grow up, I know that anything is possible.
Maybe I'll be a pilot or a history teacher or an artist!
The one thing I do know is that I want to be a dad. I can help my kids work through their fears and take them on a lot of adventures like mine.
I'm glad I had this chance to be a part of history.

True or False: Jackson was considered very supportive of American Indian rights. Click Andrew's head for the answer.
FALSE: Jackson's Indian Removal Act forcefully relocated ten of thousands of American Indians, resulting in large amounts of suffering and death.
Tweet