Compounding Works Like Magic
Compounding interest is your friend
Credit unions call your interest earnings on your savings account dividends.


The higher the interest rate, the more money for your account.
The money you put in your credit union account has worked for you. That's because your credit union pays you interest.
When you leave your money in your account, you earn interest on the interest, as well on the original amount. That's called compounding interest.
In this example, the earnings from periodic investments are about half the earnings from one lump-sum investment. That's because:
The periodic investments ($7/week) earn interest on small amounts that slowly get larger;
The lump-sum investment ($3,640) earns interest on a large amount right from the start.
Over 10 years, there is more interest to earn interest on!
| | | | |
| --- | --- | --- | --- |
| Type of investment | Total investments in 10 years | Account balance in 10 years | Earnings |
| $1 daily in a jar | $3,640 | $3,640 | $0 |
| $7 weekly in your credit union | $3,640 | $4,072 | $432 |
| $3,640 once in your credit union | $3,640 | $4,535 | $895 |
What's the compounding period?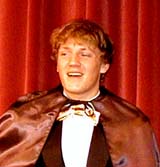 Invest just $1/day and have a quarter million by the time you're ready to retire.



Different accounts have different compounding periods—the time that goes by before they pay the interest. They can be daily, monthly, quarterly, or annually.
The more frequent the compounding periods, the faster the money in your account grows.
The reasoning is simple: if today's interest earnings start earning interest tomorrow, you're going to make more in the long run than you would if today's interest earnings don't start earning more interest until next month.
Here's something interesting: Ask your friends to name an amount of money.
Now tell them how long it will take to double it! Find out how...
Tweet