There are many ways you can be stylish on a budget. For this story, I am going to focus on accessorizing. I love crafts and making my own accessories.
The accessories I make are unique yet inexpensive. My favorite accessories to wear are jewelry, hair accessories, flip flops, scarves, and hats.
Make your own jewelry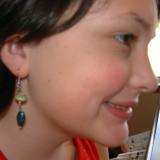 I can find my supplies at craft stores or Wal-Mart.


Earrings are fun to make. The supplies you need are beads, two or four head pins, and two fish hook ear wires.
First put your beads on your head pins. Second use the wire cutters to cut the head pins about a half inch above the last bead.
Third use your pliers to make a loop above the top bead but don't close the loop all the way. Fourth thread your fish hook through the loop in your head pin.
Finally close the loop and wear your new earrings. Now you can make earrings for both you and your friends.
You can make pretty things for your hair too...