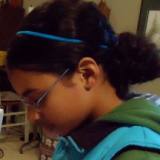 It's easy to make your own cards, especially when you have help.


People spend a lot of money buying cards for others every year. But why spend that much money when you can make your own cards?
You could pay anywhere from $3.99 to $7.99 for a regular card. When you make your own, you only have to pay around $4 for 25 cards.
Making homemade greeting cards is really easy, especially when you have help.
In the past, I have made some and sold them at my
school's holiday bazaar
.
First get your supplies
To make your own greeting cards, you need:
Envelopes
Either store-bought blank cards or some construction paper
Art supplies for decorating them

You can use hole punches to decorate the cards.


You can find blank card packs at craft stores or in the craft section of grocery stores. Remember they are still blank.
You will need things like colored pencils, ribbons, glitter, paint, stamps, hole punches, and glue to decorate the cards.
The thing is, when you use glue, you have to wait for the glue to dry. It is best to try to use the least amount of glue possible so the card won't stick to the envelope. I use little pieces of glue called "Glue Dots." You can buy them in craft stores.
What I also like to do with cards is to use pictures and mat them. Matting is where you find a piece of colored paper that goes with the picture and glue it on behind. This makes the picture stand out.
Remember, the cost for all these supplies can sneak up on you so...