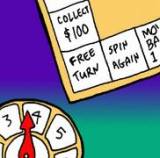 Make up the rules!


How many times have you said, "I'm bored...I want something fun to do?"
When fun things keep you busy, time goes by quickly. But when you're bored, time passes r - e - a - l - l - y s - l - o - w - l - y.
If you tell your parents you're bored, you probably hear suggestions like:
Work on your homework.
Clean your room.
Take your sister for a walk.
Clean the garage.
It's better if you just use your imagination! Next time, give these ideas a try:
Create your own board game
Change b - o - r - e - d to b - o - a - r - d!
First, sketch your idea on paper. Make up the rules and figure out the obstacles to winning the game.
Then transfer the game to poster board or cardboard, design your own game money, and assemble prizes.
Or use an existing board game and create new rules.
Make paper masks
Cut out two eyeholes in a paper plate, and use crayons, yarn, cotton balls, sequins, and markers to create scary and funny faces.
Attach a stick or a plastic spoon to the bottom of the mask for a handle. Make masks for everyone in your family.
Get them together, give them their masks, and take a family portrait!
Create your twin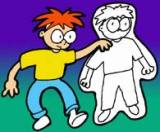 Mom, Dad? I have someone to show you.


Ask your parents to help you buy a roll of long paper. Or better yet, see if you can rescue some
large paper
destined for recycling—for example—the long ends of newsprint from the local newspaper
down on it and have someone trace the outline of your body with a marker. Draw or glue items to create your face and hair.
Color your outline or cut and glue light cloth to dress your body. Then, accessorize with scarves or beads.
Put it up in your bedroom to keep you company or send it through the mail for a visit to your grandparents.
Another idea is to...