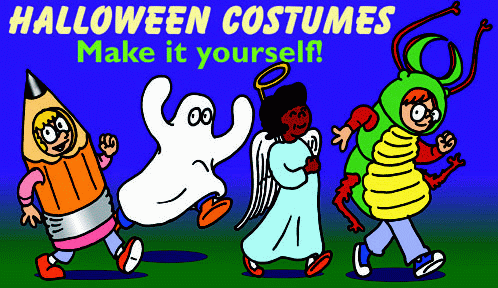 Costumes are fun to wear because we can pretend to be something or somebody else. It's even more fun when you dress up in a costume that you made yourself. You'll be proud that your costume is one of a kind.
Halloween is a great time to be creative. Whether you're going trick-or-treating, attending a Halloween party, or just looking for something to do, it's fun to make your own costume and let your imagination go wild!
Make sure to give yourself enough time make your costume. It might take a few weeks, so start early.
What do you want to be?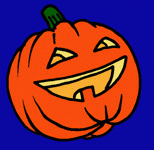 The first step in making your costume is deciding what you want to be. You could be a ghost, a witch, an angel, or a pirate. Do you want to be a tiger, a cat, a leopard, a mouse, a dog, or an elephant? You could be a flower, a bird, the moon, or a shining star. Or you could dress up like a person or a character, such as a teacher, astronaut, movie star, dancer, football player, cheerleader, scientist, or doctor.
Costume shops say that angels are always popular, and this year, Austin Powers and Elvis are in hot demand as the people to be.
If you're still not sure what you want to be, look around your house for things that catch your eye and start a Halloween costume pile (be sure to ask first). Search for things that can be made into, or be part of, your costume. Collect fabric, ribbon, rope, old socks, buttons, buckles, gloves, hats, ties, and unwanted clothing.
Complete your monster look with these easy makeup recipes.
Even if something seems silly or strange, put it in your Halloween pile.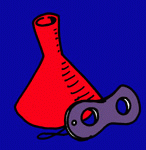 Once you have a big pile, ask your friends and family to judge "the look" as you try things on, and start combining items to make a costume. Use your imagination to create something that will trick others into believing you're something else! Have fun with it! Listen to every idea. A silly suggestion from your brother might end up being a really great costume.
Complete your costume by creating or collecting accessories--the stuff that goes along with your costume, such as a hat, shield, mask, jewelry, hair, boa, or wig.
Other costume sources
If you can't find things around your house, ask your grandparents or aunts and uncles. Sometimes visiting a second-hand store or costume shop will give you clever ideas. Check your library for books on dressing up, costume design, parties, and decorating. They're filled with great ideas, too.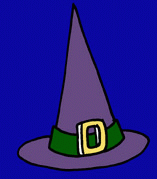 The treat comes when you've completed your costume. Check it out in front of a mirror and give yourself a pat on the back for your hard work. Show it off to your friends and family. And remember to ask someone to take a picture of you.
When Halloween is over, save your costume pile. There are things you could do with the items. Create a costume box for rainy day fun or hold a masquerade party this winter for your friends. Consider trading costumes with your friends, which will give you a new costume next Halloween!


True or False: Lincolnís picture has always been on the one-cent coin.
Click Abe's head for the answer.
FALSE: In fact, Lincoln didn't even appear on the one-cent coin until 1909, his 100th birthday.