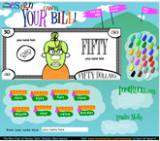 Have some fun with the new bills at NewMoney.gov.


When will it end?
You may wonder if the government has any more new money designs. Yes! A new $100 bill will be released in 2011!
Currently the government doesn't have plans to redesign the $1 or $2 bills. It's not being lazy. It's just that those denominations are less popular with counterfeiters who prefer more bang for their bucks.
You can expect to see completely new art and colors for the larger bills every 7-10 years.
What else is new?
The new bills have five big changes that are easy to check:
Color-shifting ink. Look at the number in the lower right corner on the front of a new bill. When you tilt the note up or down, the color-shifting ink changes from copper to green.

Security thread. If you hold a new bill up to the light, you will notice a skinny plastic strip in the paper. It runs from top to bottom up one side of the bill. Look more closely and you will see words that indicate the amount of the bill, and a small flag along the thread.

Watermark. Hold the bill up to the light, and notice a faint image. This is the watermark, similar to the large portrait on the front of the note. It is part of the paper itself, and can be seen from both sides.

Freedom symbols. Two symbols of freedom have been added to the face of the bill. On the new $20 the symbols are American eagles. The symbols on the new $10 are torches from the Statue of Liberty.

Enhanced portrait. The oval borders and fine lines around the portrait on the face have been removed. The portrait has moved up, so the shoulders extend into the border.
When you get one of these new bills, compare it to an older bill. Check the differences, and then hold the new bill up to the light to see all the new features.

True or False: During Lincoln's presidency, 'demand notes' were replaced by 'turtlebacks.'
Click Abe's head for the answer.
FALSE. In 1862 United States notes, commonly called 'greenbacks,' replaced demand notes.