The US Mint is going crazy! Have you seen the new quarters, nickels, golden dollar coins, and rainbow-colored bills?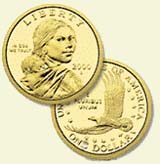 A golden dollar coin!


New color for the new $10
When you visit your credit union, ask to see a new $10 bill. This and the other new bills are safer, smarter, and more secure.
Look at the different background colors on the new $10 bill. They must have had a fashion designer pick them: orange, yellow and red!
These colors make the new bill harder for dishonest people to counterfeit, or make fake money with the intent to use it.
Did you miss the large number "10" on the lower right corner on the back of each bill?
You still will easily be able to tell the difference between a new $10 and a new $20—the background colors for the $20 are peach and green.