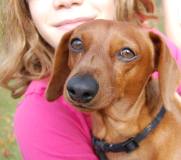 Priceless!


How to price
You can open up your own business, too, and it doesn't have to wait for summer. We get a whole month off school in December! But you have to be willing to work hard.
Here is some advice for how much you should charge people for your services: don't make things too pricey. People might think you're asking too much money.
Natalie and I had our price be $12 per dog for the month-long service. We decided on $12 because there were four one-week sessions. We thought that $3 per week would be a great deal.
What to do with the money?
You might decide to donate the money you earn to a cause. Some examples are the Humane Society, a homeless shelter, a food pantry, a school, or a hospital. There are many other great causes, too.
Of course, you can also keep the money. Natalie and I chose to give our profits to the Humane Society, because we thought it would help stray pets.
Try it yourself!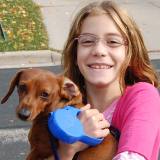 Certified puppy trainers? Who knows what's next!


We will definitely do this again. I don't think we would change anything about how we ran our puppy playhouse, because the business ran so smoothly.
We have considered becoming certified puppy trainers, but for now, we're happy with Puppy Playhouse the way it is.
Like I said before, starting a new business is tough, but you get the hang of it. So go out there and start your own neighborhood business. You won't regret it.

True or False: Lincoln was so remarkable that many towns were named after him before he became President.
Click Abe's head for the answer.
FALSE: Lincoln Illinois, known as the 'namesake city,' is the only town to be named after Lincoln before he became President.