Shopping Challenge
The pushy salesperson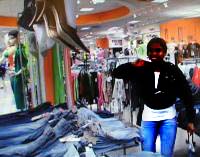 "No thanks!" says Amber.


At one of the major name-brand boutiques, Amber and Zanny find a number of items they like at inexpensive prices.
Amber: "We're done buying our stuff, and the clerk keeps asking us, 'do you want this discount card?' We say 'no' and she goes on, 'it's really nice, it's really nice, all my friends have it, it's a really good deal!'"
Then the clerk launches into the discount card spiel:
"On a purchase over $50 the discount card, which costs $20, gets you a discount of $16, so the card itself only costs $4, and then you get 10% off all year. Plus you get four coupons that are good for $5 each...so there's your $20 right there!"
"No thanks," says Amber.
"Are you sure?" asks the clerk, who sees that Amber and Zanny are shopping together. "I could combine your purchases so the total is over $50 and..."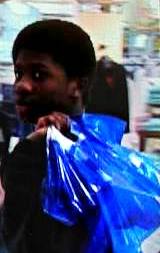 Brad manages to get a lot with his $200.


By now there's a line forming behind Amber and Zanny at the counter. They decide to take the offer.
"It's only two dollars extra for each of us," says Zanny. "But that clerk's really annoying." They buy it "just so she will shut up."
Sport jerseys, Part 2
Greg and Brad return to the sport chain store after they finish their other shopping, to pick out their "2 for $89" jerseys. However, Greg learns the Randy Moss jersey isn't offered at the discount price. He sees an Allen Iverson shirt.
But, the store says they'll have to order it, and it will take about a week. The sales clerk tells him they will send it to him, but Greg misunderstands and decides not to get it. He says, "They say I don't have to pay for shipping, but I'd have to come back on the bus."
Greg buys a Paul Pierce jersey instead, and Brad gets a Dwayne Wade Miami Heat basketball jersey.
The search for value
Are price discounts too good to be true, or too complicated to evaluate? What's the value in merchandise if you can't have it in your possession when you want it?
Brad, Amber, Zanny and Greg manage to buy a lot with their $200 budgets—that was their goal.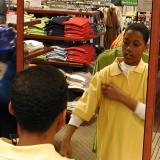 Do your own Shopping Challenge!


They wanted get as much clothing as they possibly could for $200. Instead of focusing on fewer, more expensive items, they went for quantity at bargain prices.
Greg describes one item that didn't make his cut: "One shirt that I didn't buy, it was plain, but it cost $48. Which was not a very good deal."
Greg goes on, "Then I found the same shirt for $15. I like comparing the prices, and I like to look nice."
In the end he didn't buy either shirt.
Zanny describes a similar moment: "I see this Rocawear jacket in Burlington, and I show it to Amber, and we're looking at it, 'Oh, it's so nice!'"
Zanny: "Look what it costs."
Amber: "Fifty?"
Zanny: "Try ninety."
"We just walk away," says Zanny.
You can walk
High school students share their consumer knowledge online.


The Shopping Challenge is over and it's time to walk. Everyone's tired. As we laugh about the day over burgers and fries, there are a few moments when some of the shoppers wished they had "walked away" from a purchase.
Perhaps that discount card.
And there are moments where some of the shoppers wished they'd not walked. Maybe that Allen Iverson jersey.
What about your shopping challenge? Let us know what deals you wished you'd gotten, and what you'd have done to get them.

True or False: Franklin considered himself an Englishman until he signed the Declaration of Independence and drafted the Constitution. Click Ben's head for the answer.
TRUE. He loved English theater, witty conversation and great thinkers that lacked in America at the time.
Tweet