Siao Ting's New Year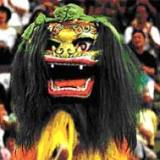 Red keeps the monster away! Read about the legend of Nian.
Beep...Beep...Beep.
It's 7:00 am and the alarm clock is making its usual racket. Siao Ting usually presses the snooze button, but today she leaps out of bed. It's the first day of Chinese New Year in Singapore!
Fourteen-year-old Siao Ting and her family have worked hard to prepare for today. Friends and relatives are gathering to welcome the New Year.
Everyone has cleaned house, gotten new haircuts, and painted the doors and windowpanes.
New Year lasts 15 days!
Chinese New Year begins on the first day of the first month of the lunar calendar.
The Chinese assign each year to an animal: Rat, Ox, Tiger, Rabbit, Dragon, Snake, Horse, Sheep, Monkey, Rooster, Dog, and Boar. On Feb. 10, 2013, it will be the year of the snake.
Every twelve years the same animal reappears.
This is Siao Ting's favorite holiday. Why not? Chinese New Year lasts 15 days!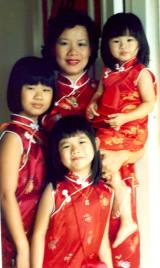 Which one is Siao Ting? Hint: the picture is a few years old.
Chinese New Year never falls on the same day. It could arrive anywhere between January 20 and February 19!
New clothes too!
Siao Ting gets to wear her new cheongsam, or traditional Chinese dress.
Cheongsam (chee-ong-sum) simply means long dress. It has a high-collar, slit skirt and usually comes in red with gold trimmings.
Everyone wears new clothes on Chinese New Year. The Chinese believe that evil spirits will not recognize us (and the people we love) if we are wearing new clothes!
The traditional color of the Chinese New Year is red. Red is a symbol for happiness, wealth and vitality.
When you hear the popping up of red lanterns, and see banners and posters in everyone's houses, it means Chinese New Year's Day is just around the corner...
Tweet