Are Competitive Sports Worth the Expense?
So many options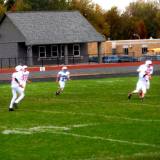 Go go go! Go score a touchdown!



Just pick a sport or an activity that you like.
They even have beginner camps for those who have little sport experience.
Decide if you want to attend an all-girls, all-boys or co-ed camp.
A lot of my friends are interested in the same sports as me and have been to sports camps too.
According to Chloe, what's a typical price for one day at a day camp?
They all have good memories. My friends Brittany and Kayla, and I went to an overnight Baton camp several years ago.
"Camp is great. I have met a lot of people and become great friends with them," says Brittany.
Kayla told me that the camp is lots of fun for her and looks forward to it every year.
Follow the rules!
One way that I think you can make the best out of sports camps is to listen to the rules and not get into trouble.
If you break the rules, you could be sent home and really lose out.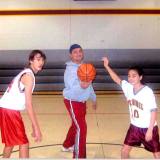 Master that jump ball!


Another thing is don't think about what everybody else thinks of you, just be yourself.
Don't be afraid to ask questions if you are confused in a play or something.
At sports camps you don't only improve in that sport but you also make new friends and have a great time.
I think that everyone should be able to go to a sports camp sometime in their life!
Tweet