Joined Across the Oceans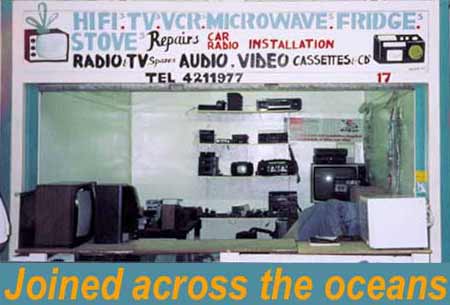 Getting ahead in a developing country is not easy. Schooling, finding a job, and starting a business all pose major challenges. And yet it's possible--with good planning, the right skills, and some help.
"I arrived with literally nothing"
Joseph Ogwal is proof. Joseph fled Sudan (in northern Africa) during that country's unending civil war. He moved to Uganda, then got a degree in electrical engineering in Kenya.
Looking for work and a better future, Joseph moved to South Africa. As a refugee with no family to help him, he had trouble getting started. At one job, he worked for two months--and never got paid.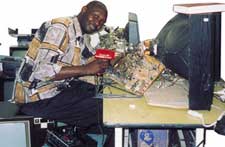 Joseph knew he could do better on his own. Many people, he knew, had broken televisions and radios. He had the skills to fix them, and he decided to start a repair business.
Joseph needed tools and repair parts that he could not afford. "Being a refugee," he says, "I arrived here with literally nothing, and didn't have any money in savings."
A $115 loan
In developed countries, we take credit unions and banks for granted. We don't have to hide our money under a mattress. We don't have to pay super-high interest to borrow money for a car or a business. But in countries like South Africa, poor people cannot cash a paycheck without paying a fee. They have no place to put their savings, let alone borrow at reasonable interest.
His search for money started poorly. "I went to several different places to gain financial assistance and the funds I needed to start a business," he says.
No bank or organization was ready to help. He was just one poor person among millions.
Luckily, Joseph can't take "no" for an answer. He joined a local credit union that offered small-business loans and business advice. With a loan that was tiny by western standards ($115 U.S.), he bought tools and parts.
Finally ready to pursue his dream, Joseph opened his business at a table in a market. Within months, he paid off the loan.
Joseph used his next loan to rent a storefront, where he fixes televisions, radios, refrigerators, VCRs, and microwaves.
Thanks to the credit union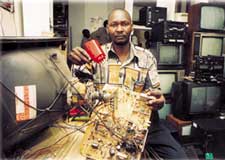 Most of the credit for his success belongs to Joseph, but without help, he knows he might still be scrambling for work. "Thanks to the credit union, I have had my business for roughly a year and a half now," and already has a second location.
It's a simple story, and it only concerns one family. Joseph had the skills, but not the money. But thanks to the shared resources of his credit union, he can now support his wife and their two children. He can even send some money to relatives who are refugees in Kenya.
One day, with a lot of help from his skills and initiative, and maybe more loans from the credit union, Joseph wants to start training others in electrical repair. But most important, he hopes to bring his family to South Africa so they can start new lives and benefit from his success.


True or False: The $20 bill constitutes the majority of all currency printed by the United States Bureau of Engraving and Printing today. Click Andrew's head for the answer.
FALSE: More $1 bills are printed than any other currency. Because it is commonly dispensed in ATM machines, the $20 is the highest denomination of money that is used on an everyday basis.
Tweet