The Nitty Gritty on Healthy Eating
A healthy diet is one that contains a variety of fruits, vegetables, and grains, as well as protein from lean meat and poultry, or from plant sources.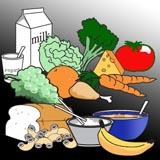 Eating healthy food can affect your behavior.
Eating healthy doesn't mean you have to sacrifice taste. In fact, many kids and parents say that fresh fruits and veggies—especially organic meats and produce—taste better.
A tale of two foods
This is a short tale of two kinds of food:
The kind of food most people know about.
This kind of food comes from a really big farm, where farmers use pesticides and herbicides to kill bugs and weeds.
It's easier for the farmers to harvest their produce, and makes the food cheaper because they don't have to spend time weeding their gardens.
If the farmers keep animals, the cattle and chickens are kept in small cages so that they can get the most meat out of the least amount of space.
This is the kind of food you see in most grocery stores.
Another kind of food is growing in popularity around the country.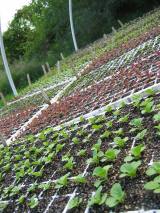 Organic farms don't use pesticides.
This kind of food comes from smaller farms that don't use conventional pesticides or herbicides.
The farmers take the time to weed their gardens and use special ways to keep pests out. This might include capturing pests by hand, or leaving the land unplanted for a year, so the bugs leave on their own.
It often takes more time for this kind of farmer to harvest the food, and the grower doesn't always get as much from the garden. For this reason, the food costs more.
If these farmers keep animals, they allow them to graze in fields and take up much more space (called free ranging), and they aren't fed antibiotics or growth hormones to help them yield more meat.
This kind of food, called "organic," is the fastest growing food movement in the country. Many farmers are turning to organic food production because they believe:
It's better for our bodies because it doesn't involve ingesting chemicals that are a proven health risk, and others that we don't know the risks of yet.
It's better for the land they farm because many of those chemicals break down slowly, reduce valuable nutrients in the land, and pollute the soil and groundwater.
The increasing market allows them to charge more for their labor. Ask Farmer Rob...
Tweet