Puppy Playhouse
This past summer, my friend Natalie and I opened up a small neighborhood business. It was tricky, but fun!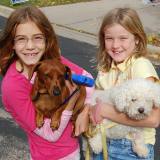 Natalie and I got to play with puppies for a month!

Natalie and I walked dogs, played with them, and trained them every Saturday for a month.
Tell people about it
We spent about and hour and a half making fliers that advertised our business.
The fliers didn't cost us a thing—we reused paper, and hand-delivered the fliers ourselves.
Then, we gave all of our neighbors with dogs a flier, and you know what? Only three out of ten people signed up! But at least they signed up, and we still had lots of fun doing it.
The commitment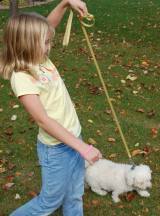 Natalie leads Mitzie

One tricky part of our business was that since we told our neighbors we'd be there every Saturday for an entire month, we had to make sure we were there. Two of the Saturdays, Natalie couldn't make it.
Since there were three dogs, I needed to find a sub. It would have been hard to do it by myself since two of the dogs didn't get along. Luckily I found a friend to help me.
Natalie and I (and the sub) usually took the dogs on a bike path around our neighborhood. The walk was about 15 to 20 minutes long
Each Saturday we made sure we were on time to pick up the dogs and that we took good care of them.
We even had to clean up their business. Even if you're a kid it's important to be responsible...
Tweet