Rock On!
There are a lot of ways you can make money. Have you ever considered taking something you love to do—like a hobby—and using it as a way to build your savings account?
That's exactly what Alex has done. He's a 14-year-old lead-singer in a rock-and-roll band. He's not famous, but he does have 35 performances lined up for the next few months. It's hard to believe that less than one year ago he'd never been on a stage in his life.
Self-made rocker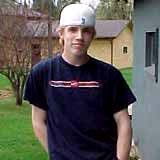 Alex got his first guitar when he was 10.
Alex's love for music began one Christmas morning when he discovered a new guitar under the tree.
He was 10 years old, and had wanted a guitar for as long as he could remember. He took a few lessons, but mostly taught himself how to play.
Learning guitar is not easy and requires a lot of practice. Alex didn't care... he loved what he was doing.
A few of Alex's neighborhood friends were practicing instruments too. Soon they decided to form a new band. They named it "Reckless Junkett."
By the time he was 12, Alex was writing his own music. He and his friends also were becoming good at playing songs by some of their favorite bands.
But they still hadn't performed for anyone.
aj1829
Tweet