Search Cyberspace
Sift the sites
Decide which sites are valuable and which ones are duds. The official website for your search term is usually a safe bet.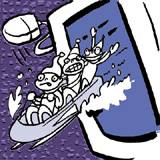 Wouldn't it be great if the best site would jump out at you!The problem however, is that anyone can claim to be the official site!
For this specific search, any information you found from the Olympic or United States Bobsled Federation websites should be accurate. If you can't trust the experts, whom can you trust?
Here are some other safe bets:
.gov—The US government maintains these sites. These are valuable resources for accurate information.
.org—Organizations like clubs, churches, and non-profits use these sites. Information on these sites is usually from the official source, and usually there is no advertising!
.edu—Educational facilities use these sites. Chances are the information will be factual, and without advertising.
What about Wikipedia?
Just because a site ends in .com does not make it unreliable. If you are unsure about a site's validity, or truth, look for the same data on other sites.
What's Boolean?
Bowling with computers
How you say "What's cookin?" in Googol-ese
Language that helps you find what you're searching for on the Web
What a virus sounds like if you have your volume set on high
Suppose you run across a shocking piece of information, but you can't seem to confirm it on an official site. Then chances are it's probably not the truth. But to be safe, one site to check something that you're suspicious about is
Snopes
.
No matter how perfect a fact might seem for your paper, it won't be much use if it isn't correct. Your teacher will likely be able to detect false information like this, so don't take the chance.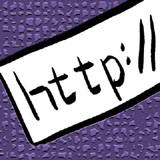 Mission accomplished!
Put it all together
Congratulations! You've:
Done a specific search with the right engines
Obtained a long list of sites
Deleted the bad ones
Gathered your information
Made your outline
Now start writing and get that paper out of the way! It may not be time for bobsledding but the weekend's just ahead!

True or False: True or False? Andrew Jackson joined the military when he was 16-years-old. Click Andrew's head for the answer.
FALSE. Though 16 is a young age, Jackson joined the military when he was 13-years-old to fight the British during the Revolutionary War.
Tweet