What can I do instead?
Put yourself in power!


If you turn off the TV for just one week, what you'll miss is:
Even if you don't watch a lot of TV, doing something else instead can be more fun and improve your health.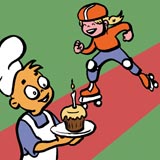 Learn how to cook for yourself and friends!


There are so many things to do instead of watching TV. A good place to start is by talking to your parents about games they played when they were kids.
Ask them or an older relatives to teach you a favorite games from their past, like marbles. Kids all over the world still play marbles.
You only need two players, but you can have as many as six and still keep it fun.
Once you start playing marbles, you'll be surprised how often you find old marbles hidden in the ground. They're left from previous games and maybe previous generations!
Who knows, maybe you'll find a marble that's 100 years old!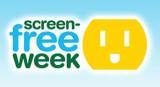 Screen-free week is a national celebration!


More things to do
There are so many things to do when you turn off the TV. I'll bet you can think of more:
These ideas are only a start. Enjoy some of your own non-TV activities this week!

True or False: Lincoln's great, great, grandchildren live in Springfield, Illinois in Lincoln's house, today.
Click Abe's head for the answer.
FALSE: None of Lincolnís children, grandchildren, or great grandchildren are alive. Jack Lincoln, Abraham Lincoln's only grandson, died in 1890.