Work Without Selling Out
Em's gems are paying for her car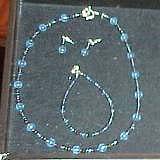 Get started right now making your own jewelry!


The prices for Emma's jewelry range from 50 cents to $10. "The most expensive thing I make is a three-in-one set made with different glass beads and magnetic beads so you can wrap it and wear it as a necklace, a bracelet or an ankle bracelet."
The least expensive item is a charm bracelet that Emma makes with inexpensive beads.
Emma sells most of her jewelry at church and school. She also goes to sporting events with her father. She posts her sign, "Em's Gems," at the events, and sets up a table with her jewelry.
"Over the summer I made $1,400 at one event," she reveals. "I started out keeping my money in a zip lock bag; now I have a bank bag and I keep receipts. Mostly I save the money—I'm almost done paying for my car."
It's a one-person business
Running a one-person business does have its challenges. "Since I'm the only one making the jewelry it's hard when there are too many orders," Emma says.
"People get to pick their own beads and I make the jewelry right in front of them," she adds. "It's better when I'm at a multi-day event so I can do it at night in my hotel."
Life skills come with the gems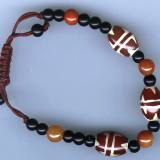 Find a jewelry-making group near you.


Emma plans to continue jewelry making long-term. "I don't plan to stop, but it won't be my career for the rest of my life. I want to go to college and probably become an accountant— I like math," she says.
Emma figures that "down the road, if I ever need to, I can make money doing this; I'll always know how to do it."
Emma's building skills through her business. "It helps me with math, since I have to keep track of my earnings. It also helps me be more confident in talking with people and I've met a lot of interesting people."
What about you?


Your hobby may land you a wacky scholarship.


If you prefer the structure of working regular hours at a business, there are plenty of opportunities for earning that needed cash.
Is there something that excites you? Like Jeff, Peter and Emma, why not design a job around your own personality and talents!

True or False: Benjamin Franklin's only surviving residence is not in the United States, rather it is in London, England. Click Ben's head for the answer.
TRUE: Despite being one of our founding fathers, none of Franklin's houses are memorialized in the US. Instead, on January 17, 2006, Franklin's 300th birthday, his home on Number 36 Craven Street in London opened its doors as a new museum.
Tweet
Community South Credit Union
What makes credit unions so great? Members like you.

Every dollar you invest in your credit union earns you money while other members borrow it.

When you're ready for a loan, other members' savings will be there to help you out at the lowest possible cost.