Photos courtesy of CTM Madison Family Theatre Company.
Develop a competitive edge!
Work as part of a team!
Think on your feet!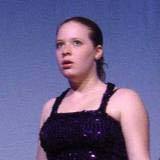 Angela's think-fast moment.
Sound like a recruitment ad for your school football team? Certainly these important skills help you in team sports, in school, and throughout your life.
What about theater?
"In theater, I've learned things I'll use my whole life—besides, it's so much fun," says Angela a freshman.
Angela says that theater has helped her handle school. And life.
She and four other high school students talk about what they've learned through theater.
Stay focused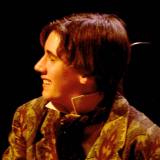 Aaron's think-fast moment.
"The biggest thing theater's helped me with is staying focused on one thing," says Aaron, a senior.
Aaron got involved with theater when he was nine years old, studying at a local theater company's summer drama academy. He began by playing such parts as a winged monkey in The Wizard of Oz.
Aaron is now playing Theodore "Laurie" Lawrence, one of the main characters in Little Women.
"When I was in about fourth grade, I couldn't focus at all in school," he says. "As I got bigger acting parts, I had to learn to focus during rehearsals, and that focus is something I can use in other areas of my life."
Aaron's grades went from Ds to a 4.0 average in ninth and tenth grade.
It takes energy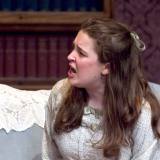 Melanie's think-fast moment.
"Theater takes a lot of concentration and energy," agrees Melanie, a senior. Melanie plays Meg in Little Women.
"It can be exhausting to go through the long rehearsals and intensive performance schedules. It's truly a discipline, not just a fun activity."
Melanie says theater has also helped her learn time management. She has to manage a heavy load of homework and extracurricular activities with rehearsals and performances.
Melanie says, "It gives you a sense of what it's like in life to balance many priorities, work and family."
Handle competition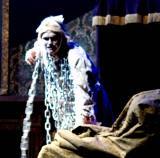 Nathan's think-fast moment.
Theater can be competitive too, especially during the later phases of auditions.
"When you're competing for a specific role against another person, you have to learn to handle competition," says Nathan, 17, a junior.
Nathan recently played Danny Zuko in Grease.
He also played Jacob Marley in A Christmas Carol.
"If you can't learn to lose once in a while, or to win well, people will never want to work with you," says Nathan.
"I used to get really upset if I didn't get a part," says Ashley, 15, a freshman.
The role Ashley has enjoyed playing most was the title role in Annie.
Ashley adds, "My mom would tell me that I needed to learn to deal with it so people would want to work with me. Now I just tell myself to have fun and do my best."
"I try not to think of it as a competition; I just think about my own performance," adds Angela, whose favorite role has been Bonnie in the musical Anything Goes. "If you let the competition get to you, you won't do your best."
"If you believe in yourself you'll do so much better," says Aaron. "If I don't get the part I want, it motivates me to do better in the part I have, to prove myself."
"When someone else gets the role you want, you have to accept it as the director's choice," says Nathan. "It's their production; you're like the employee and you have to accept their vision."
Teamwork is the glue
How do you get involved in theater?
Once a play is cast, the actors and crew must come together as a team. "The cast is the closest group, like a family; you build up chemistry with them" says Nathan.
"In theater you learn to work as a team because you can't do it all yourself. As an actor, you couldn't do the lighting and sets. You have to rely on other people," says Angela.
"So much of theater is about teamwork," adds Melanie. "When you're on stage you can't just be thinking about yourself. You have to think about your relationships with others and adjust to what they're doing."
Melanie adds, "You have to learn to have professional relationships with them, work collaboratively. That means putting aside personal feelings even with people you wouldn't want to hang out with."
"It's really helped me learn to work with groups in school," says Ashley. "I've learned to share my opinions more and speak up during group projects."
It builds your confidence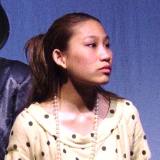 Ashley's think-fast moment.
Ashley's theater experience has increased her confidence. "It's helped me a lot; I used to be really shy," she says. "As I got cast for harder parts, I became more confident. I aced my public speaking class!"
Melanie has also seen her public speaking skills improve. "In the past, if I had to do a presentation I'd be really nervous."
"But to act you have to develop your voice, your posture, your energy," Melanie continues. "It's really given me a presence and poise when I speak."
Not to mention your resume
Theater skills and experience look great on a resume or a college application.
Melanie says, "As I apply to colleges, one thing that stands out is how much time I've devoted to theater and how passionate I am about it. I think people recognize how the skills you build strengthen you as a person."
"I want to study theater in college, and my experience will definitely help," says Nathan. "Even liberal arts schools want you to be well rounded. My brother didn't get accepted into one college because, although he had strong academic and sports experience, he had no arts activities."
"I think theater experience shows that you have discipline, that you can commit to something, just like a sport," says Aaron.
Besides, it's fun
"The best part about theater is all the friends you make, all the bonds you form," says Angela. "You get a chance to meet people from different places and to learn about the places they come from."
"Theater is a discipline, but it's the most rewarding thing I do," says Melanie. "I love becoming a character and convincing the audience that I am that person."
Ashley agrees. "It's fun to play someone completely different from you, especially someone from a different time."
"Performances are the best. Not just the applause, but creating the character, taking a walk in their shoes and learning about other people's views," says Nathan. "You get an energy from the audience; you can tell if they're responding."
The applause is nice too, according to Aaron. "On opening night, when the show finishes and you bow, it's great to see everyone appreciating your hard work."
by Judy Dahl

True or False: Because of his opposition to using the eagle as a symbol for the United States of America, Franklin's portrait has never appeared on any coin that also portrays an eagle. Click Ben's head for the answer.
FALSE: From 1948 to 1963, Benjamin Franklin's likeness appeared in the American half dollar. On the reverse -- as mandated by Congress -- was the eagle.
Tweet
What makes credit unions so great? Members like you.

Every dollar you invest in your credit union earns you money while other members borrow it.

When you're ready for a loan, other members' savings will be there to help you out at the lowest possible cost.