Unusual and Unique Credit Unions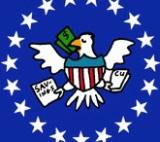 Even The White House has a credit union!All credit unions are unique in one way or another, but some have definite claims to fame. Because credit unions serve specific groups of people—the employees of a company, the members of a church, or the people who live in a specific community—credit union names and fields of membership can be interesting.
What's in a name?
Your name is important, especially if you want to join the San Francisco Lee Federal Credit Union. This credit union was founded to serve just one family—the family of "Lee." According to a recent credit union directory, 984 Lee members and their families belong to this credit union in California.
There is a credit union called NICE Federal Credit Union. NICE is a little misleading since it stands for Northern Illinois Correctional Employees, which isn't a very "nice" place to live.
The White House Federal Credit Union has about 6,000 members...and, no, we can't tell you if President Obama is a member. If we did, we'd have to send the members of the FBI Credit Union or the CIA Credit Union after you, because that's confidential information.
Look for the unusual

This is unusual!
Some credit unions could be pretty interesting places to work. How about
First Entertainment Federal Credit Union
or Universal City Studios Credit Union, both in California, where James Van Der Beek or Leonardo DiCaprio might sit down at your desk. Just kidding...whether they're members or not is also confidential.
The sky is anything but the limit with this next credit union. NASA Federal Credit Union, founded in 1949, was originally created to serve the employees of the National Aeronautics and Space Administration (NASA). Being an astronaut is no longer a requirement to become a member of this credit union, however there is no telling whose moonboots have walked through its doors.
While we cannot confirm anyone's membership to this credit union, we can say that members of this credit union have made one giant leap towards financial savings!
Navy Federal Credit Union is the largest in the country. It serves naval personnel all over the world. Headquartered in Virginia, it has ATMs onboard ships and in branch offices around the world to serve nearly two million members.
There's even a virtual credit union...
Tweet