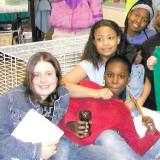 Left to right: Erin, Jenyika, Keraa, and LaLonnie get down!


Are you in the dark about your family's roots? Investigate the mystery—become a family history detective!
Elementary school students in Wisconsin did this for a class project.
You can too, at school or at home on your own!
Diggin' roots
Become a roots detective and find out about your own family history.


Investigate your ethnic background with Snoop.


Start with just one branch (either your mom's family, or your dad's) of your family tree.
Look for clues about where they came from.
"I talk to my dad and my grandmother about this a lot because they've both been to Ireland," says Erin. She wants to learn about her Irish heritage.
Roots detectives usually discover that their families came to America from many different countries.
It takes time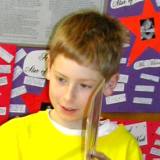 Matthew makes his very own family tree!


How long did it take your first ancestor to come to America? It took time. And so will your project.
The young detectives in Wisconsin spent almost three months digging up their families' roots.
They learned about different traditions for eating, celebrating, and doing everyday things.
"I was amazed there was so much to learn!" says Keraa. She searched her roots in the African nation of Liberia.
It's worth a party!
The Wisconsin roots detectives ended their project with a special evening at school. Everyone enjoyed food, music, and stories from around the world.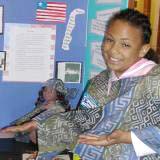 Keraa shows her matching doll during her exhibit.


The students placed their cultural displays all around the classroom. They gave tours, and shared their thoughts about the project with family and friends.
"The hardest thing was finding all the information," says Amanda, who learned about her French roots.
The night of the show, she says, "it was "really fun to share what we did."
Everyone who attended learned a lot from the students' family history research.
How to dig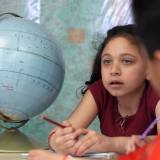 Rebekah listens to one of her elders talk about life in the old days.


Want to become a family history detective like the Wisconsin students?
Every successful project begins with a plan.
Before you start, divide your detective work into logical steps:
Talk with your closest family members first, then more distant family members. That's how you'll find out family and cultural history.

Research at the library and online. That's how you'll find general information about countries, cultures, and ethnic groups.

Talk to people in your community. You'll get ideas about who to talk to and where to find them as you work on the first two steps.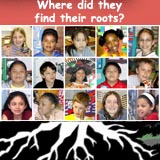 Click


here to test your detective skills.
The best way to learn about your family history is to ask questions. Pick an older family member to interview, face-to-face or over the phone.
Prepare some questions and conduct your interview. Use a special skill called Deep Listening!
When you're finished, design and build exhibits so you can share what you've learned.
Use words, pictures and objects to describe different countries and cultures
Your family history exhibit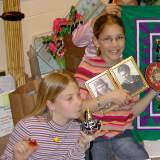 Amanda (left) and Maggie show their roots.


Two family lines came together when you were born. As you search your history, you're solving the mystery of who they were.
You're learning how their stories have influenced you.
Why not make an exhibit showing your family's background! Help everyone learn what makes your family special.
Show it to friends and relatives. It doesn't matter if it's in a corner of your bedroom or at a school event—they'll love it.
It's a family celebration!

True or False: Lincoln invented the word 'specie' to refer to the different kinds of pets he kept.
Click Abe's head for the answer.
FALSE. 'Specie' is real money (coins and notes), backed by gold or silver. Lincoln abandoned specie when he authorized the use of greenbacks - paper money - to pay for the Civil War.