Living in Poverty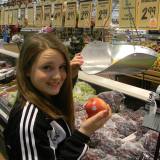 We all have everything we need.
When you think of poverty what comes to mind? Do you think it means you're not doing well financially right now? That you can't buy the things you want?
Poverty is much more than that.
Being in poverty means you not only can't afford the things you want, it also means you can't afford the things you need to live.
I don't have everything I want. None of my friends have everything they want. But we all have everything we need.
We have shelter, clothing, medicine, and nutritious food. But we take that stuff for granted.
No more
My 6th grade teacher wanted to help change that when she assigned us "The Poverty Project." This project is made up of a bunch of worksheets. The first one is called "Family-of-Three Food Budget Assessment."
When I got the worksheet I had a distant memory of my older brother three years ago saying this project was impossible. My brother is pretty smart. And he thought this was impossible? Uh-oh.
The Family-of-Three Food Budget Assessment tells me to pretend that I am a single parent raising two children: a 3-year-old and a 6-year-old. The assignment sounds easy. I have to plan a menu that will feed my family for a week. I have $100 to do that.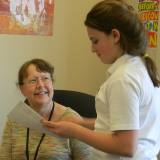 My teacher helped me stop taking the things I have for granted.
Ah, the rules
My Dad and I read over the worksheet together. There are some rules I have to follow when I plan my menu. The most important rule is that I have to feed my family the recommended servings from all food groups.
Each day I have to make sure each family member has six servings of grains, three of vegetables, two of fruit, three of dairy, and two servings of protein.
The next rule is that I have to serve breakfast, lunch, and dinner every day (except for school lunches).
The final rule is that I can serve leftovers, but I have to make sure my menu has a lot of variety. I can't serve the same meals every day.
After we read the rules and look at my budget, my Dad tells me that if this works he will be surprised.
My Dad is starting to sound like my brother―that this is impossible...
Tweet