What about you?
Families cope best when everyone helps out.
The first part of getting costs under control is for families to talk
about the problem. Dylan and Adrienne's parents didn't want their
kids to worry so they tried to avoid talking about money.
However, that's exactly why Dylan and Adrienne are most upset!
Here are some ways you can help your family save money:
Need it or want it?
Go green to save money.


What's the toughest part of cutting spending?
It's when you're shopping for things you want,
of course.
Ask yourself, Do I really need this or do I
just want it?
If you're honest, you don't really need many of the things you want.
Or, you can find something else that's a lot cheaper.
To help out your family,
you can
put the brakes on asking for things.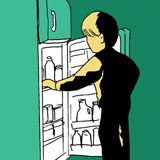 Help save electricity.


Asking for things you think you've got to have puts pressure on your mom or dad just when they need you to go along with less spending!
Save electricity
Your home costs several hundred dollars a month (or more) for energy costs alone.
You can save money in dozens of small ways, and it will add up to big dollars...