Get More For Your Tuition
It helped Megan
In high school, Megan developed a close relationship with one of her teachers. She continues to maintain it.
Now a graduate of Fordham University, Megan connected with two or three professors. She was interested in the subjects they teach, and the professors were friendly. Megan says, "So many students fail to take advantage of the opportunities available to get better acquainted with their teachers."
Megan and her former Fordham roommate Erin took advantage of their philosophy professor's open-door policy. Megan says, "Practically every day we stop in her office to talk with her for awhile."
This teacher has already become a valuable career guide for both of the students.
It helped Suzanne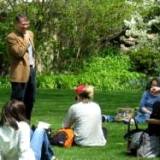 Advice from WiSE women at Brown University.


When Suzanne was an undergraduate, she says, "I was fortunate to be mentored by faculty at Creighton ... who suggested possibilities I had never entertained."
Suzanne stresses that a close relationship with a mentor in college can set you on a path that helps direct the rest of your life.
Jim Ault and Judy Kessler, two sociology department professors, were Suzanne's primary mentors. They stressed the value of research, and constantly reinforced her efforts. They worked with her on important projects. Professor Ault helped Suzanne obtain the Alumni Merit Award from Creighton's College of Arts and Sciences.
Now that Suzanne is a distinguished scholar and teacher at the University of Maryland, she says that "working with students to realize their potential is one of the most fulfilling aspects of my current position."
Students at Dartmouth took their own initiative.


Colleges can help
Colleges and universities are competing for students, and they want to keep those that they recruit. To do this, they are looking for ways to help students build relationships among each other and among themselves and their professors.
I have been a part of one such effort—the Freshman Seminar at Creighton University. We separate new freshman into groups of about fifteen students. Then we assign a faculty member to serve as adviser until the students have chosen a major.
Google "freshman year experience" and see what you get!


Two upper-class student leaders assist the faculty. The faculty-student team develops a schedule of activities during the semester. Students help plan extracurricular social events.
This program successfully:
Helps students develop friends within the group;
Gives students reliable information about the institution;
Introduces freshmen to upper-class students who can help them deal with "the system;"
Allows students to work closely with faculty members who are more concerned with adjustment to college than with performance evaluation.
Students say this program is helpful and enriches their lives. But smart students take the first step to form personal relationships with their professors...
Tweet