It Pays to Work Together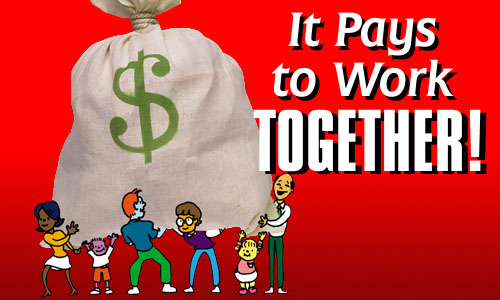 "Can I borrow 10 bucks? "
"Sure, just pay me $20 in a week."
Sounds like a decent deal, if you really, really need to borrow the cash immediately. But what if you don't have $20 next week? Then you would owe $40 in another week. After a month, you would owe $80. In just a few weeks, this little loan gets into serious money! You'd end up paying far more in interest, the borrowing fee, than in principal, the amount you borrowed.
Now, unless you're borrowing money from a usurer, you won't really pay 100% interest per week. But debts can add up fast, even at lower interest rates. It happens all the time.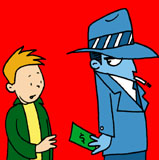 If you own a house you can borrow and use it for collateral--something a lender can sell if you can't repay the loan. But if you rent, or have not repaid past loans, you could be at the mercy of "loan sharks"--emergency lenders that prey on desperate people.
These businesses may secure a loan with your car, meaning they keep the car if you don't pay back the money you borrowed plus interest. It's easy money. Repaying is the hard part. One of the biggest problems involves people who "borrow against" their paychecks. They use their paycheck for collateral on a high-interest loan.
And even if you have been a responsible borrower, a bank may not be the best bet. A bank's job is to make money for its owners, not necessarily to help its borrowers find the best loan deal.
How can average people get a break?
Loan-sharking is not just a thing of the past.
Suppose you tried something different. Instead of relying on one person, how about working together? What if your entire school formed a financial self-help group by putting some money together and lending it to members who need it. After all, not everybody needs a new bike or a CD player at the same time.
You could structure the organization so members earn interest on their deposits. Each member could borrow when necessary, paying reasonable interest. Of course, you'd need to make sure nobody ran off with your money. You'd need to track the loans so they were repaid. And you'd need leadership. How about an elected group of volunteers who would make sure everything was honest and legal?
A financial group can be cooperative and educational.
This self-help group you've started has a name:
a credit union
. Credit unions gather the financial strength of their members. They make reasonably-priced loans. Depositors earn a bit of
profit
--called a
dividend
. Members help each other out.
Don't bank on it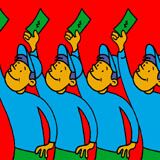 If this is starting to sound like a bank, well, credit unions and banks do similar things. Each provides savings accounts, checking accounts , credit cards, and loans. But they have differences, too.
Although they don't charge outrageous interest, banks do operate for their owners' profit. By law, a corporation must earn money for the shareholders, the owners who've invested in it. That is its first responsibility.
Credit unions also serve their owners. But the owners are their members--their users. And that includes every member, no matter how big or little their savings accounts are. Credit unions can pay higher interest rates on savings accounts and charge lower rates for loans because their shareholders are the people who deposit money or borrow it.
Make affordable loans and earn a bit of profit.
Credit unions also educate their members. Finances have never been more complicated. A key job of every credit union is making things as plain and simple as possible. Like that group at school, volunteers run credit unions. People committed to the credit union idea staff the board of directors and important committees.
All of this cooperation between members and those who run the credit union led to the development of the credit union motto: "People helping people."


True or False: Andrew Jackson was referred to as a 'Jackass' during his 1828 election campaign. Click Andrew's head for the answer.
TRUE: In fact Jackson was quite fond of the nickname and used it as his symbol for awhile. It later became the symbol of the Democratic Party.
Tweet