Make High Tech YOUR Tech
Save it!
Gathering the money isn't enough—you have to save it! A great way to save is to put your money in your credit union savings account. At the credit union, your money earns interest and it is safe.
Besides earning interest (sometimes called dividends), another advantage of keeping your money in your credit union account is that you can't impulsively spend your money on other things. It's not in your pocket!
If you don't put the money in your credit union account, put it in a safe place—out of your wallet or purse.
Shop around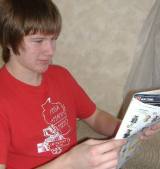 The more you know, the better deal you'll find.
Now it's time to buy the product. Don't just buy it in the first store that you visit. Shop around by foot, hand, and eye.
By foot: Get out and walk. Compare deals in different stores.
By hand: Move your mouse around on your desktop and visit stores on the Internet. Compare prices between stores on the net and stores on the ground.
By eye: Read magazines and newspapers for
classified ads
about the products you're interested in.
If you purchase through a classified ad, what's important to remember?
The ad classifications change daily
Your gadget may not have a warranty
You'll have to pay the ad costs
The newspaper may go out of business
When you are ordering from a magazine, catalog, or online, remember that you will have to pay for shipping and handling and you will not get your item immediately.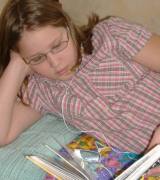 "Books are better with a soundtrack," says Marissa.
Also, customer support may not be as available if you get your gadget from these sources.
Mission accomplished
Now you walk to the bus stop enjoying a perfectly good day.
With your newly acquired technology in hand, whether your friends are available to talk or not, you are fully prepared to pass the time.

True or False: Andrew Jackson believed the Earth was flat. Click Andrew's head for the answer.
TRUE: Even though Ferdinand Magellan established the earth is round as early as the 1500's, Jackson still believed the Earth was flat.
Tweet