Advice from the Real World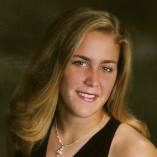 Senior Year Archive
NAME: Liz
ABOUT ME: I'm a freshman at Mississippi College, where I play "keeper" for the Lady Choctaws soccer team. I'm there on a presidential scholarship and am majoring in Biology with plans to become a pharmacist. I've lived all of my life on the Mississippi Gulf Coast and am looking forward to college life!


CHANGE!
August 17th, 2009 at 1:44 pm
We keep hearing a lot about change these days, and I am right in the middle of a lot of change!
My summer at home has ended and I am back at college in a new  dorm.  No more home-cooked meals for me – I am changing to the cafeteria – Yum!
Are you ready for a fresh start?  Now's the time!  If you are about to start a new school year, it is a great time to make some changes.  Think about what you can do to make things better, maybe even totally new and exciting.
Do a little self reflection and see where you can make some positive change – then do it!  Get up a little earlier, get a little more organized, exercise a little more, smile more, say "thanks" more…..get it?  Just get yourself all wrapped up in this change idea and do something for yourself!
It seems like everything is changing!  My time as a blog writer is over and C-Note will be bringing in a new, younger writer for you!    I have really enjoyed sharing things with you, and I hope I have helped you out along the way.
While things are changing, make sure you hold on to what makes you the best that you can be!  Don't change something that is already great.  Hold on to your strengths, accentuate the positive, work hard but make sure you have fun, too!
Speaking of change – I was able to catch up with Ben, the new C-Note Blog Writer.  He is from Virginia, but came to the Gulf Coast for a family vacation.  I helped him change from not too comfortable in the river to a real water lover!  It was great!

Your new blogger, Ben, and I take a spin on the waverunner.
«
Confidence is Key
ADD TO MY FAVORITES
E-MAIL THIS BLOG
PRINT THIS BLOG