Open your presents!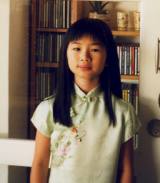 "It's important to save for a rainy day,"
says Siao Ting, Siao Yun's older sister.


Siao Yun is excited about opening the 15 red gift packets she's collected!
Most of the red packets contain four dollars. But what a surprise! Her parents have given her $80. Her grandparents have given her $20. Altogether she receives more than $200 in New Year money!
Siao Yun says, "I used to be more of a spendthrift. Now I understand how important it is to save for a rainy day!"
"Once you start saving it really isn't that difficult," says Siao Yun. "Saving a little a day goes a long way. My piggy bank is already three quarters full!"
Time to slow down
By the fifteenth day, the festivities end quietly with the lantern day festival.
Children and adults walk around the neighborhood holding colorful lanterns. Some are shaped like butterflies, fruits and dragons!
Siao Yun and her friends link arms under the full moon. They skip and sing traditional Chinese songs to wish each other luck during the upcoming New Year.

True or False: Lincoln fought in the Black Hawk War of 1832.
Click Abe's head for the answer.
FALSE: Lincoln was chosen captain of a volunteer company gathered for the Black Hawk War, but his company did not see battle.