PHOTO CONTEST: UNUSUAL WEATHER WE'RE HAVING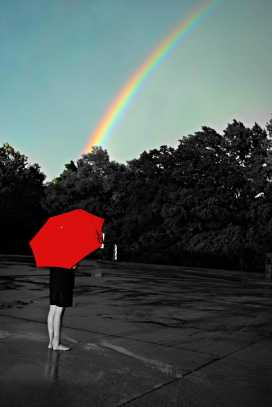 "That red umbrella, the rainbow, and the black and white figure is a great artistic touch."
JanikaForMe, 14, Bangor, ME
02/29/12
"Amazing photo awesome photoshop so colorful I love it ;)"
nene9197, 14, Tucson, AZ
02/28/12
"I love your picture, and I think it should be up in the top five. Even though I'm in the contest, I love your photo! :)"
colorfulchic, 14, Kalama, WA
02/28/12
"Your picture is the best and most creative. I love how you made the umbrella a bright red and it is the only one that has color besides the rainbow. Well done!"
Kenna, 14, austin, TX
02/22/12
You must be logged in to post comments.
After a Rainy Day in Texas!
Rebekah, 19
grapevine, tx
I took this picture after a rainy day in Texas. My sister is the one standing with the umbrella! It was beautiful!
Westerra Credit Union
What makes credit unions so great? Members like you.

Every dollar you invest in your credit union earns you money while other members borrow it.

When you're ready for a loan, other members' savings will be there to help you out at the lowest possible cost.