New Drivers: Start your Engines!
Oil changes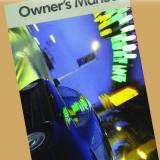 It's in the manual.


Regularly check your oil level—with the car engine off. Give the oil a few minutes to run off engine parts and collect back into the oil pan. A good rule is to do this every other time you refuel.
How often should you change it? Hint: It's no longer what your parents' cars needed.
If you need to add oil, your owner's manual or full-service station attendant can tell you the recommended oil for your car.
Find out what your mechanic recommends for your vehicle, and do it. It will cost $20 to $40. City miles and dusty roads are a lot harder on engines, so change the oil more frequently if that applies to you. It's a little cheaper if you can do it yourself, but you better know how because the consequences can be serious.
General maintenance
Your car needs more than oil.
If you're buying a used car with higher mileage, some things may need attention. While cars are generally built to last more than 100,000 miles, parts start wearing out and need replacement on most models after 50,000 to 60,000 miles.
Lubricating all your car's moving parts will keep them humming along, too. Ask your service station to do this when you take your car in for routine maintenance. Many stations will also check your car's fluids and top them off, too, as part of the service package.
Think about frequently used and exposed parts: muffler, windshield wipers, brakes, tires, lights, etc. Maintaining a car isn't glamorous, but it's important if you want your car to last. Repairs can be costly and can cause stress and frustration, especially if you lack the money to fix the problem. What to do?
Do the research to check the durability of a car or truck you're interested in and get an idea of the expenses you may incur over the next couple of years.
Consumer Reports
magazine is a good resource—you can find it in your public and school library. Or go online to
Intellichoice
to study ownership and repair costs.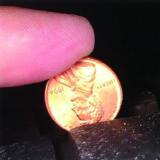 Got hair? You're good to go!


Check the Wheels
About every three months, check the air pressure in your tires. Again, your manual will tell you the proper pressure, and some manufacturers put this information on a sticker on the inside of the driver's door. Correct tire pressure will give you maximum steering ability and cut down on your cost of gas as well.
When should you replace worn tires? Do the Lincoln penny test. Insert the top of the penny—Lincoln's head—into the most worn part of the tire tread. If you can see the top of Lincoln's head, the tire should be replaced. If some of Abe's hair is buried in the tread, consider your tire safe.
Keep your service papers to document your routine maintenance schedule. When you're ready to sell, this proof may persuade a prospective buyer that your car is worth your asking price. Then you'll be glad you chose to take good care of your car!

True or False: Franklin was one of three people who wrote the description for a seal of the United States of America. Click Ben's head for the answer.
TRUE: On July 4, 1776, the Continental Congress appointed a committee consisting of Benjamin Franklin, John Adams, and Thomas Jefferson 'to bring in a device for a seal of the United States of America.'
Read the other stories in this series!
Tweet
Westerra Credit Union
What makes credit unions so great? Members like you.

Every dollar you invest in your credit union earns you money while other members borrow it.

When you're ready for a loan, other members' savings will be there to help you out at the lowest possible cost.