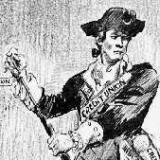 See the full version of On Guard.

Always on guard
Stern uses a hero from American history, the Minuteman, to show that credit unions protect people's money.
This cartoon assures people that a credit union will always be on guard to keep away those who would take advantage of consumers.
Able and ready to rescue you
In To the Rescue, Stern uses a famous
1920's movie theme
of a hero saving someone tied to a railroad track as a train roars closer. This illustrates that credit unions can save you. They do this by lending money at a fair interest rate and by teaching you how to save money.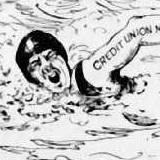 See the full version of The Channel Swimmer.

The 1920s was a time of daring exploits.
Charles Lindbergh flew across the Atlantic Ocean alone in 1927—the first person to do so. In 1926 Gertrude Ederle swam across the English Channel between England and France in record time.
Welcome, new members!
Credit unions were still a new idea for many people in Stern's time.
He drew two cartoons to show that more and more states were passing laws to protect peoples' deposits in credit unions.
In one, a
busy credit union house
welcomes two well-dressed new occupants, Illinois and Michigan. People can see from the drawing that credit unions are friendly and can be trusted.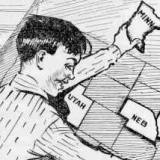 See the full version of Credit Union Map.

In another cartoon, Stern draws a U.S. map as a puzzle. As states pass laws to protect money in credit unions, new pieces are being added to the puzzle.
The puzzle is not finished, but all the pieces are there. This shows that in time, credit unions in every state will be able to serve members. Today, that's true!
Joe Stern was a great artist who believed in credit unions. Whether they advertise by cartoons or any other style of marketing, credit unions all pride themselves on the fact that they are owned by their members.

True or False: Lincoln invented the word 'specie' to refer to the different kinds of pets he kept.
Click Abe's head for the answer.
FALSE. 'Specie' is real money (coins and notes), backed by gold or silver. Lincoln abandoned specie when he authorized the use of greenbacks - paper money - to pay for the Civil War.