So, you want to sell lemonade!
Chances are the heat has something to do with your decision. This summer's one of the hottest ever!
You've identified a demand, and you've decided to fill it! That's the first step toward building a successful business.
Find the right product
Lemonade is a seasonal offering—people don't want ice-cold lemonade in the middle of a cold winter.
If you plan to open a stand in the fall, consider selling hot chocolate and fresh, warm home-made cookies.
Here's a great lemonade recipe.


Make lemonade?
You can make your own lemonade or buy a mix from your local grocery store. Most recipes include water, lemons, and sugar.
Experiment to get just the right mix. You might want to give your customers the choice of sugar-free lemonade.
For most people, sugar works just fine.
Employees?
If you think you need to hire someone to help you run the stand, consider these questions:
Do you need workers to run the stand?
Are you ready to become a boss?
How will you pay the people who work for you?
The fewer people you need to operate your stand, the more profit you get to keep for yourself. This is part of having a low overhead, or keeping your fixed costs as low as possible.
Set your stand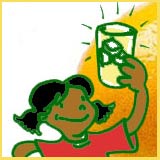 Find out if your town has rules about lemonade stands.


You can use a card table or a board on two boxes. Either one makes a good stand.
Decorate it with a tablecloth or colorful paper.
Look around for a busy area where your parents say you can sell your lemonade. Ask the people who have a business in that area for permission.
On a hot day, other business owners will welcome the added attraction.
Or, take your stand on the road with a cooler, wagon, and plenty of ice. You can set up on the side of a bicycle trail.
Bikers, roller-bladers, walkers, and joggers will want a glass of cold lemonade.
Now it's time to market your lemonade...