Keeping Members Dry
Little Man goes global
The technology and communications advances after World War II were bringing the citizens of the world closer together, and credit unions began to spread around the globe.
In 1954 the Credit Union National Association (CUNA) created an international services department called the World Extension.
To reflect this expansion, designers encircled the little man with a dot pattern and a globe.
Little Man retires


88% of credit union members trust credit unions more than banks.

In the 1960s, CUNA retired the Little Man. Credit unions felt his style was outdated:
He was difficult to use on signs or letterhead.
The rain drops made him difficult to cut out.
He was hard to see when reduced in size.
The words "hard times," "sickness," and "financial distress" didn't mean much anymore.
The U.S. economy was expanding. People were getting married and having children at an unprecedented rate. Credit unions wanted a symbol that showed they had changed with the times.
After trying and discarding several concepts, hands lifting a globe with people in it became the official new symbol of the credit union movement.
The symbol emphasized the uplifting aspect of credit unions as well as their global reach and member focus. Credit unions officially adopted the new symbol in 1966.
The Little Guy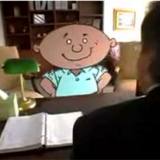 The Little Guy is a hit on YouTube.

In 2007 CUNA created an all-new Little Guy—not to replace the Little Man, but to persuade members of Congress to support credit unions legislatively.
The Little Guy resembles Flat Stanley, the children's book character who was flattened by a bulletin board and decided to make the best of the situation by mailing himself to a friend.
The Little Guy comes complete with a video that has become a hit on YouTube.The video features a cardboard-cutout Little Guy in pursuit of a small business loan.
After being turned down by a live-action banker—rejected because he is "just...a little guy," he finds help at a credit union—only to learn that federal law limits credit unions' ability to help members with this type of credit.
As CUNA's CEO Bill Cheney says, "Credit unions stand up for the Little Guy and Little Gal—the 92 million hard working Americans who belong to credit unions."


True or False: Benjamin Franklin's only surviving residence is not in the United States, rather it is in London, England. Click Ben's head for the answer.
TRUE: Despite being one of our founding fathers, none of Franklin's houses are memorialized in the US. Instead, on January 17, 2006, Franklin's 300th birthday, his home on Number 36 Craven Street in London opened its doors as a new museum.
Tweet
Credit Union of Colorado
What makes credit unions so great? Members like you.

Every dollar you invest in your credit union earns you money while other members borrow it.

When you're ready for a loan, other members' savings will be there to help you out at the lowest possible cost.