Tired of Games? Make a Movie!
Behind the scenes—the script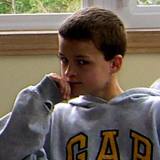 Duncan says it's time to rehearse!
You need a script so the actors know what to say.
Here's what I do to make the script:
First, I think of a plot.
After that, I think of some creative lines for the actors to say that tell the story.
I usually just have the actors keep the lines in their heads, but I write it down so I can keep track of everything.
When I am done with the script, I show it to the actors. If they want, they can make some minor changes to make it better.
When we are done writing the script we try to memorize it, and then we rehearse.
Your movies will have a lot of mistakes if you don't have rehearsals!
Plan the action
What, problems? What, Problems?

You will always have some problems along the way.

One time, I had some mistakes and film shortage. But I had to fit the movie into what I had.

It was hard to do all of the editing perfectly, but once I got past all of that, the movie was a success!

One other time when we ran low on film, we had to wait a couple extra days to finish shooting the movie, until we had time to go to the store and buy some more film.


Close

You don't want the actors just to stand around, do you? It's time to start designing actions that will go with your editing and with the script.Cool Actions

When I create a video, I want good tricks and moves to show the actors' skill.

Since my movies are comedy/action, I have to come up with actions that the actors can do to fake many things, like killing someone. We can't really do that!

Close

The rest of the actions are up to the actors to create, depending on their personalities and acting preferences.Create Your Own Action

For example; one time when an actor was running away, he did a dive and a cool spin, ending up with a realistic landing.

Close

In the final rehearsal, record both actions and words togetherPut it Together

If you record the speeches and the actions separately, then try to combine them with editing software, it can turn out kind of weird.

So we try to record them both at the same time.

Close

and try to perfect it. After that, you can start filming...
Tweet