Fraternize in a Frat
Are you curious about fraternities? Here's the low-down, starting with how to join.
Recruitment

Guys skip the organized rush and go where they like!


Recruitment for fraternities is a little different from sororities.
Instead of an organized rush where groups travel from house to house getting to know members, guys attend events at whichever houses they like.
A rush schedule for each fraternity is often e-mailed to all the males on campus and/or posted on the front door of a fraternity house.
Rush events include things like grilling out, playing football or watching sports on a big screen TV.
At the end of the rush, the houses you visited might extend you a bid. You can accept any you like, or decline them all if you don't feel you found the right spot for you.
Philanthropy
Fraternities need to do at least one service project a year called a philanthropy. They're usually very fun.
Here are some typical fraternity fundraisers: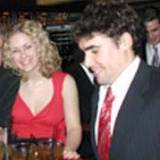 Most of the dues go towards social events with the sororities.


Some fraternities have hosted week-long events with games and competitions for the entire Greek system.
Ponying up the dough
Fraternities are usually less expensive than sororities, about $150 to $600 a semester, but they lack many of the amenities:
Most fraternity houses don't have a house "dad" that lives there and keeps things in order.

They often times don't have a cook or a cleaning service either.
Most of the dues go toward social events they put on with sororities since the fraternity pays for most of them.

True or False: Benjamin Franklin's idea for the bifocal lenses came when he was eating dinner. Click Ben's head for the answer.
TRUE: While eating dinner, Franklin noticed he could see the food in front of him but not the person across the table from him. With the bifocal, he could use one pair of glasses for two purposes.
Tweet
Boulder Valley Credit Union
What makes credit unions so great? Members like you.

Every dollar you invest in your credit union earns you money while other members borrow it.

When you're ready for a loan, other members' savings will be there to help you out at the lowest possible cost.