Going Greek
It's up to you
Here's a Greek web site with specifics about each house.


If balancing a life outside of a fraternity or sorority is a main concern, relax.
It is easy to handle a life between your new friends and those friends outside of your house. You don't have to give up the great friends you meet in the dorms or elsewhere.
Different chapters require different activities. Members usually show up to most events because they're fun! Sorority and fraternity life is what you make of it.
If you don't have a lot of time to put in, don't sweat it. Put your schoolwork and well being before your sorority, fraternity or any other activity.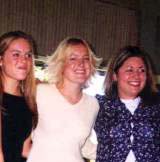 It's about friendships, social events, and academic success.


Make the grade
While Greek life is certainly filled with social events and close friendships, there is a serious side to Greek system as well.
Many houses pride themselves on their academic achievement. Being in a sorority or fraternity isn't all about the social perks.
It's about academic success and honing skills that will better you as a person too.
Houses generally offer and even mandate study tables, reward systems, and other academic achievement programs to keep morale high.
Many houses in the Greek system have a web site or media through which you can contact alumni and talk to them about their post-college jobs.
This is an incredibly helpful resource when it comes to finding jobs and even internships!
It's all about life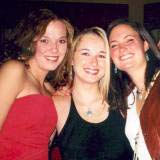 Make friends that will last a lifetime.


While college can be considered "the life," there is much more after graduation.
The opportunities to travel, meet new people and network will just begin!
College is a great time to have fun, grow into your independence, and make connections and friends that will last a lifetime.
You'll come to treasure every moment!

True or False: Franklin used glass instead of polished quartz for his first pair of bifocal glasses. Answer below. Click Ben's head for the answer.
TRUE: Early eyeglasses were made of polished quartz. By Franklin's time, developments in glassmaking made it possible to produce them from glass.
Tweet
Boulder Valley Credit Union
What makes credit unions so great? Members like you.

Every dollar you invest in your credit union earns you money while other members borrow it.

When you're ready for a loan, other members' savings will be there to help you out at the lowest possible cost.